Azkena Rock Festival 2023
Mendizabala, Vitoria-Gasteiz.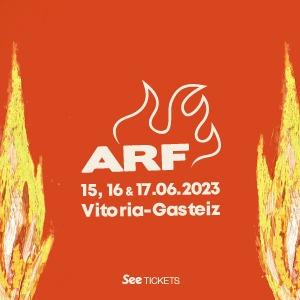 Formulario para acceso gratuito menores 14 años aquí
Some or all of the items for this event require you to enter a promotional code.
Please enter your details below to buy tickets.
---
More information about Azkena Rock Festival 2023 tickets
JUEVES 15/06/2023
RANCID, EL DROGAS (BARRICADA -40º), STEVE EARLE-LIHER, LYDIA LUNCH RETROVIRUS, MONSTER MAGNET, OS MUTANTES, THE KAISERS, NESTTER DONUTS.

VIERNES 16/06/2023
THE PRETENDERS, INCUBUS, BONES OF MINERVA, CALEXICO, CORDOVAS, EARTHLESS, THE GUAPOS, GWAR, MATCHBOX, PASADENA, S8NT ELEKTRIC,
THE SOUNDTRACK OF OUR LIVES, THE UNDERTONES, HOLA GHOST, THE REVEREND PEYTON´S BIS DAMS BAND, LOS TIKI PHANTOMS.

SABADO 17/06/2023
IGGI POP, LUCINDA WILLIAMS, ALTER BRIDGE, THE BEVIS FROND, BRIGADE LOCO, EZPALAK, JIM JONES ALL STARS, LUCERO, MELVINS, THE NUDE PARTY,
ANA POPOVIC, AMANDA SHIRES, NAT SIMONS & CHERIE CURRIE, WILD BILLY CHILDISH & CTMF, KING SALAMI AND THE CUMBERLAND THREE, STEEL BEANS
CHUCK PROPHET & THE MISSION EXPRESS.